Unleashing the Magic: The Ultimate Guide to Gender Reveal Confetti Cannons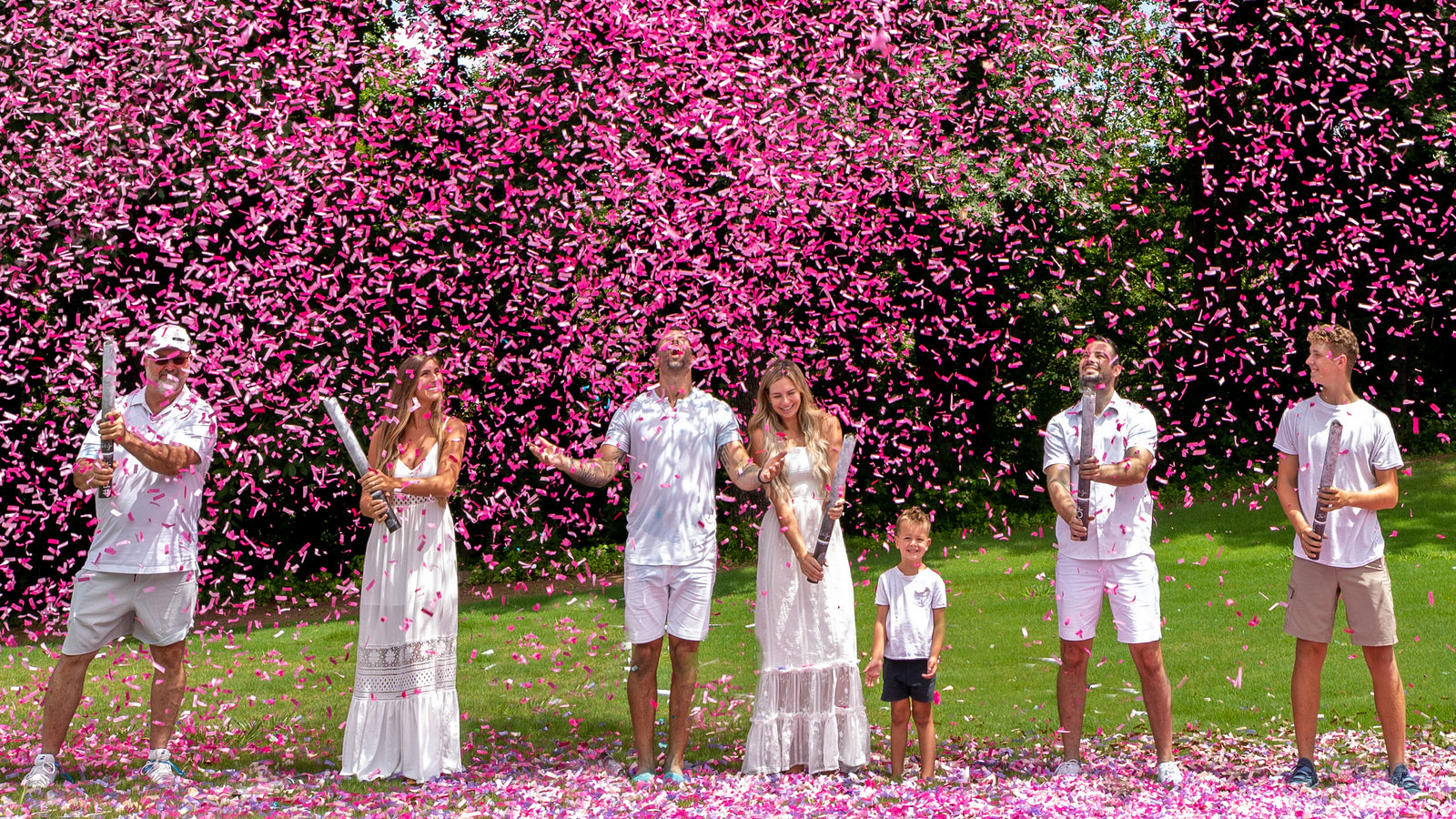 When it comes to announcing the newest addition to your family, gender reveal parties have skyrocketed in popularity, driving a surge in imaginative and heartwarming reveal methods. Among the plethora of options available, confetti cannons stand out, not just as a trend, but as a magical experience. Let's dive into the colorful world of these cannons and see why many parents are choosing them for their big moment.
---
What Are Gender Reveal Confetti Cannons?
Gender reveal confetti cannons are handheld devices designed to shoot out confetti when activated, unveiling the gender of the baby in a vivid cascade of color. A simple twist or push of the cannon releases a burst of confetti, turning anticipation into a moment of pure joy.
---
Why Choose Confetti Cannons for Your Reveal?
The burst of color, the collective gasp of surprise, and the ensuing smiles make confetti cannons a top choice for reveals. Not only do they offer an undeniably dramatic visual experience, but their ease of use ensures that the focus remains on the moment and not on the method.
---
Types of Confetti Cannons
Traditional Confetti Cannons: These are the classics, filled with paper or foil confetti designed to capture the essence of celebration.

Eco-Friendly Cannons: For the eco-conscious parent, these cannons release biodegradable confetti, ensuring both a memorable reveal and a nod to environmental responsibility. Poof There It Is leads the way in this category, providing cannons that are packed with 100% biodegradable confetti, ensuring a sustainable celebration.

Combo Cannons: A blend of varied fillings like confetti mixed with powder or streamers, ensuring a multi-textured, delightful visual spectacle.
---
Safety First: Using Your Cannon Safely
Confetti cannons, while fun, should be used with caution. Always point away from people, read the instructions, and choose open spaces to ensure safety. The joy of the moment should never be overshadowed by avoidable mishaps.
---
Creative Ideas for a Memorable Reveal with Poof There It Is
When it comes to confetti cannons, Poof There It Is stands in a league of its own. Why?
Volume of Confetti: Their cannons, available in sizes of 12", 24", and 32", are generously filled, ensuring a longer, fuller, and more mesmerizing confetti shower.

Specially Designed Confetti: With unique color hues and cuts, the confetti from Poof There It Is is engineered to flutter gracefully through the air, making your reveal look straight out of a fairy tale.

Unique Color Palettes: Move over traditional pink and blue! Poof There It Is offers a spectrum of color palettes allowing parents to add a personal and unique touch to their special moment.
---
Cleaning Up After the Blast
While the confetti blast is undeniably beautiful, the aftermath requires cleanup. Fortunately, with the biodegradable confetti from Poof There It Is, the environment remains cared for, making the process smoother and guilt-free.
---
Where to Buy Quality Gender Reveal Confetti Cannons
If you're in the market for a confetti cannon that promises a moment worth capturing and cares for Mother Earth, look no further than Poof There It Is. Their dedication to quality, variety, and sustainability has made them a favorite among expectant parents.
The anticipation, the countdown, and then the explosion of color—confetti cannons encapsulate the emotion of a gender reveal in a split second that feels like an eternity. With companies like Poof There It Is elevating the experience with their exquisite and environmentally-conscious products, your gender reveal is bound to be a magical memory cherished for a lifetime.
---
Ready to make your gender reveal unforgettable while caring for the planet? Dive into the world of confetti cannons with Poof There It Is and let your celebration resonate with colors, laughter, and love. Share your stories with us, and don't forget to capture that perfect moment!
---